An Easy Guide to Selling with Us
Get Your Business Off the Ground
Before getting started:
Please see our VENDOR SAFETY CHECKLIST here! 
Please note that we do not take any food vendors that sell food.  The only food vendors we accept are those that sell pre-packaged items.  
Step one: 
Obtain a permanent California Seller's Permit with YOUR name on the permit–not a corporation's name. The address on the permit should be that of the Roadium Open Air Market.
Apply for a Seller's Permit on the CA Board of Equalization Website HERE
Our address:
Roadium Open Air Market 
2500 W. Redondo Beach Blvd
Torrance CA 90504-1529
Step two: 
Bring the permanent Seller's Permit, a valid driver's license OR valid government-issued ID card, and the last four digits of the Social Security Number of the recipient of the permit to the Roadium Business Office. There is a $15 fee for the Roadium ID card.
*If you are representing a service company such as a dentist, accounting firm, etc., you will need to bring a letter signed by the owner/president/manager of the company you would like to register and have proof (business card & valid ID) you are working for the company.  Click HERE for a Sample Letter.
Please note: We accept cash, debit or credit cards for spaces bought at the Reservation Office. We also have an ATM on the premises for your convenience.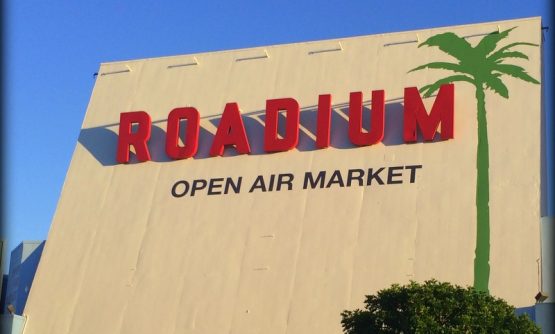 Reservation Office Hours (for space purchases):
Monday – Friday:  6AM – 2PM
Saturday – Sunday: 6AM – 3PM
Click HERE for our Roadium Vendor Safety Checklist!
*Important information regarding counterfeit merchandise*
The Roadium has zero tolerance for counterfeit merchandise sold on our premises. If you are caught selling counterfeit merchandise you will be banned immediately and your selling rights to the Roadium will be revoked, with the possibility of your arrest. We apply these rules equally to all sellers, with no exceptions.
Space Rental
Space rental requires a: Valid California Seller's Permit OR Roadium I.D. and a current driver's license or government-issued ID card.
Day
Pre-Sale Fee

(To Reserve)

Stand-By Fee

(After 7:00am)

Monday

$40.00

$45.00

Tuesday

$22.00

$26.00

Wednesday

$38.00

$43.00

Thursday

$22.00

$26.00

Friday

$27.00

$32.00

Saturday

$80.00

$90.00

Sunday

$90.00

$100.00
| Day | Presale Wall |
| --- | --- |
| Saturday | Wall 1-6 $105.00 Wall 7-21 $80.00 |
| Sunday | Wall 1-6 $115.00 Wall 7-21 $90.00 |
| Wednesday | Wall 1-6 $65.00 Wall 7-21 $45.00 |
Prices subject to change without notice.
Stand-by starts each day at 7:00am. Space hold calls will not be accepted after 7:00am. Spaces will be held only in emergency situations and only until 7:00 am. There is a space hold charge of $5.00 per space.
Need More Details?
Our New Seller's Booklet is free to download (2MB) or pickup at the Business Office.
Important new rules regarding Food Vendors 
The Department of Agriculture and Department of Public Health has implemented a new set of permits and licenses in order to sell produce, fruit and/or live plants. Please see the following links to the California Department of Food and Agriculture (CDFA) regarding the new permits and licenses.
Produce and Fruit Vendors' license and permit information
Live Plant and Nursery license information
How Does Social Media Fit into All of This?
Roadium vendors are embracing the tech age. Your customers are online–so why shouldn't you be?
We now offer our vendors support and advertisement via our social media. Extend the reach of your products/services to our thousands of followers online.  Reach out to info@roadium.com for more details on the services offered.
#RoadiumVendorLove
To get a better sense of what our diverse and rich vendor & shopper community is like, check out our Facebook page.
In our Vendor Love series, we profile long-time vendors in our park! Click here to search the hashtag #roadiumvendorlove on our page!